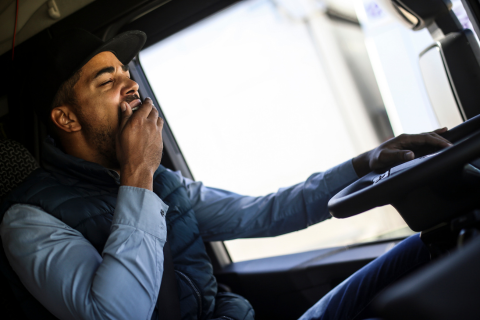 Anyone whose job involves driving for long hours must ensure they are well-rested and alert behind the wheel. This responsibility is particularly salient for truck drivers, whose vehicles can weigh up to 20 times heavier than a standard car. Nevertheless, drowsy driving is unfortunately common among truckers, and the consequences can be catastrophic. 
If you have suffered injuries or lost a loved one in a truck accident caused by a drowsy truck driver, you may be eligible for significant compensation. While the path toward recovery can feel overwhelming, working with an experienced Arizona truck accident lawyer can significantly improve your chances of recovering compensation that will cover the total value of your losses. 
The legal team at Silkman Law Firm Injury & Accident Lawyer will give you the personalized attention you need as we fight to hold the at-fault parties accountable for your injuries. Call our offices today or contact us online for a free case review to learn more about how we can help you.
Why Drowsy Driving is Common Among Truck Drivers 
Truck drivers play a vital role in the health of the American economy, transporting goods across the nation. However, their job entails maintaining high levels of mental concentration over long working hours and weeks. Furthermore, the trucking industry operates on tight deadlines, which can tempt drivers to push themselves beyond their physical capacities. 
For these reasons, the Federal Motor Carrier Safety Administration imposes stringent Hours of Service (HOS) regulations to cap the amount of time a driver may be on duty or behind the wheel in any given timeframe. Drivers who violate these rules can be held liable for accidents and injuries they cause if they do not take sufficient breaks or have enough rest between on-duty periods.
Yet the drivers themselves might not be the only liable parties in such cases. Sometimes, trucking companies coerce their employees into finding ways to circumvent federal regulations to meet deadlines and cut costs. Suppose a driver's employer forces them to work too often or stay on the road too long without breaks. In that case, a skilled truck accident attorney can uncover evidence they can use to hold the trucking company accountable for their wrongdoing. The possibility of multiple at-fault parties in a truck accident case underscores the importance of working with a knowledgeable truck accident law firm capable of handling complex cases.
Phoenix, AZ: A Hub for Trucking & The Unique Risks
Phoenix's geographical positioning makes it a hub for trucking. Located on Interstate 10, the city is the major metropolitan area between the Port of Los Angeles and the rest of the southern half of the United States. As such, our city experiences a perpetual influx of commercial trucks from all directions. 
Because the trip from L.A. to Phoenix can take a truck more than six hours to complete, the risk of drowsy truckers arriving from the California coast is significant. All motorists should take extra precautions when driving on the highways around Phoenix and watch for the following signs of drowsy truckers:
Erratic accelerating or braking

Taking too long to start moving at traffic signals or stop signs

Slow reactions to changes in the flow of traffic

Exceeding the speed limit

Reckless maneuvering

Lane drifting
Keep an eye out for tired truck driving patterns, especially late at night. 
Consequences of Drowsy Truck Driving Accidents
When truck drivers have not had sufficient rest, they can suffer from delayed reaction times and impaired decision-making. Some tired truckers even experience microsleeps on the road. Drowsy truck driving accidents in Phoenix can have severe physical, psychological, and financial consequences for victims.
Physical Consequences
A fully loaded commercial truck can weigh up to 80,000 pounds. A collision with a vehicle of that size can lead to severe injuries, particularly when a drowsy driver loses control of their vehicle. These injuries may include:
Traumatic brain injuries

Spinal cord injuries and paralysis

Internal organ damage

Limb amputation

Broken bones

Facial and dental injuries
Psychological Consequences
The effects of a drowsy-driving truck accident can be equally severe for a person's mental health. Many victims of these collisions suffer from:
Anxiety

Depression

PTSD

Phobias and avoidant behaviors

Loss of enjoyment of life
Financial Consequences
The treatment required for bodily and psychological ailments can be overwhelmingly expensive. Furthermore, physical injuries and mental health challenges can prevent a person from returning to work for a significant amount of time or even permanently. In addition to compensating an injured individual for their pain and suffering, a truck accident claim aims to make them financially whole again. 
Steps to Take if You're Involved in a Truck Accident
Knowing what to do after a truck accident can help improve your chances of physical and financial recovery. Here's what you should do:
Seek immediate medical attention, even if you feel fine.

Gather evidence, such as photos of the accident scene, your injuries, and witness contact information.

Avoid accepting any settlement offers from the insurer before you understand the full value of your claim.

Speak with an experienced Phoenix drowsy driving truck accident lawyer.
How Can a Lawyer Help? 
A skilled attorney is essential for anyone wanting to maximize compensation in a drowsy driving truck accident case. They can help you by:
Conducting a thorough investigation of the accident to identify all liable parties

Calculating the value of your losses

Negotiating aggressively on your behalf

Filing a truck accident lawsuit if necessary
Contact our Arizona Truck Accident Attorneys Today
The compassionate and skilled legal team at Silkman Law Firm Injury & Accident Lawyer has an in-depth understanding of what truck accident victims go through. We have what it takes to stand up to trucking companies, their insurance companies, and their high-powered defense attorneys. Our team will fight aggressively to hold all at-fault parties accountable so you can seek the compensation you deserve. 
Let us take care of the hard work so you can focus on recovering. Call us today or contact us online for a free case review to learn more about your legal options.