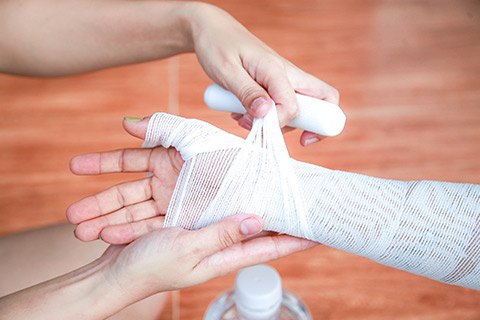 The effects of a severe burn injury can be devastating, both physically and emotionally. Not only are these injuries painful, but they may require extensive surgeries and skin grafts to treat, which can cause disfigurement and limit mobility. Even after you've healed from the initial injury, you may be left with long-term medical conditions that impact your quality of life and make it difficult to work.
At Silkman Law Firm Injury & Accident Lawyer, we know that you are going through a great deal of pain, anxiety, frustration, and uncertainty – especially if the injuries you suffered were someone else's fault. But we're here to help. Our Phoenix burn injury lawyer will fight fiercely for the financial compensation you need to move forward from this.
Reach out to our firm today for a free, no-obligation case review with a Phoenix burn injury lawyer.
Common Causes of Burn Injury Lawsuits
Burn injuries can result from a wide variety of accidents. At Silkman Law Firm Injury & Accident Lawyer, we can assist if you have suffered a burn injury because of:
Our law firm has extensive experience handling these complex cases. We have the skills and the resources to identify all possible sources of compensation and fight for the maximum payment you need.
Demanding Full Compensation for Your Burn Injury
If you've suffered a burn injury as the result of an accident that someone else caused, you may be entitled to compensation for the expenses and losses that you incur, including:
Costs of medical treatment, therapy, and rehabilitation
Long-term care expenses for permanent scarring or disability
Loss of income from the time off work while recovering from a burn injury
Loss of future earning ability if the burn injury causes scarring or other conditions that restrict your ability to work
Pain and suffering
Reduced quality of life due to scarring/disfigurement or because disabilities interfere with your ability to participate in activities or take care of daily tasks
It is impossible to truly understand how much your burn injury case is worth in the immediate aftermath of an accident. It will take time to heal and get a full picture of how your injury will affect your life in the future. A lawyer from our firm can help you document the full extent of your losses and demand maximum compensation in your case.
How a Phoenix Burn Injury Lawyer Can Help
When you've suffered a life-changing burn injury, your time and energy should be spent recovering, not on preparing a claim and negotiating with insurers. Let a Phoenix burn injury lawyer from Silkman Law Firm Injury & Accident Lawyer fight for compensation while you focus on your health and well-being.
Our burn injury attorney can do this by:
Investigating the underlying facts and circumstances of your burn injury and securing evidence that establishes your legal right to compensation
Consulting with accident reconstruction, engineering, or medical experts to determine how your injury occurred and who can be held liable
Documenting the full extent of the losses you have suffered because of your injury
Pursuing a negotiated burn injury settlement that provides you with full compensation for your injuries and related expenses
Taking your claim to trial, if litigation is the best option for securing maximum financial recovery
Our burn injury law firm will not charge any fees upfront to begin work on your case. In fact, we only get paid if we recover compensation for you.
The Most Common Types of Burn Injuries Our Attorneys See
Some major types of burn injuries include:
Thermal burns, such as those caused by exposure to fire or hot surfaces
Electrical burns, caused by electrocution
Friction burns, such as road rash or from any other type of abrasion injury
Chemical burns, caused by contact with or exposure to caustic chemicals or substances
Radiation burns, caused by exposure to radioactive materials or substances or to excessive emissions of radiation
What to Expect with a Burn Injury and Recovery
The treatment and recovery process for a burn injury will vary depending on the severity of the injury. Burn injuries come in three grades of severity, with first-degree burns being the least severe and third-degree burns being the most severe.
First-degree burns
A first-degree burn, also called a superficial burn, only affects the top layer of the skin. First-degree burns will normally heal on their own over time. Although minor first-degree burn injuries may not require any medical attention, larger or more painful burn injuries, or first-degree burns to sensitive areas of the body (such as the face, hands, feet, or groin), may necessitate some form of treatment.
Treatment for a first-degree burn may begin with applying a cool compress to the burn site to help relieve pain and swelling. Ice or extremely cold compresses should be avoided, as they can further damage burned skin. Treatment may also include applying topical ointments such as aloe vera or lidocaine, which can provide pain relief, prevent the skin from drying out, and encourage healing. Anti-bacterial and anti-viral ointments may also be used to prevent infection of the damaged skin.
Skin injured by a first-degree burn may peel as it heals. A first-degree burn will completely heal in as little as three days or as much as three weeks, depending on the size and location of the burn and the treatment administered. Medical attention should be sought if a first-degree burn shows signs of infection or if symptoms worsen.
Second-degree burns
Second-degree burn injuries affect a deeper layer of skin known as the dermis. A second-degree burn injury will usually cause swelling and reddish, white, or splotchy skin. It may also cause the skin to blister. Second-degree burns can range from minor injuries that heal on their own to larger and deeper burns that require medical intervention. Second-degree burns typically heal within a few days to a few weeks.
For less serious second-degree burns, treatment may be largely similar to that of first-degree burns, including the application of cool compresses and topical ointments. A second-degree burn site may also be covered with gauze or a loose bandage dressing. Larger or deeper second-degree burns, or those that affect sensitive areas of the body, may require more intensive treatment, including monitoring in the hospital for signs of infection. Treatment may include a course of oral antibiotics if the burn becomes infected or if the sufferer has a high risk of infection due to a compromised immune system.
The most severe second-degree burn injuries may necessitate a skin graft. If the graft covers a joint, the surgery may be followed by physical therapy to help restore range of motion.
Third-degree burns
Third-degree burns are the most serious kind of burn injury, as they can damage tissues below the skin, including subcutaneous fat, muscle, ligaments and tendons, or even bones. Treatment of third-degree burn injuries normally takes place in specialized burn centers.
Medical treatment for a third-degree burn includes:
Debridement or other water-based treatment to clean damaged tissue from the wound and stimulate healing
Application of specialty wound dressings and topical ointments to prevent infection and stimulate closing of the wound
IV fluids to help prevent dehydration
Pain medications or antibiotics
For extensive third-degree burns, surgical and other interventional procedures may be needed to repair the damaged areas or otherwise stimulate healing. These procedures may include:
Skin grafts, in which healthy skin is used to replace damaged tissue that will not heal on its own
Cutting into burn scabs that tighten and restrict blood flow or breathing
Intubation, if a burn injury restricts breathing
Feeding tubes, if a burn injury prevents the victim from feeding themselves
Once a third-degree burn has healed, a person may undergo reconstructive plastic surgery to both improve the appearance of scars and to increase flexibility in joints that are affected by scar tissue. A third-degree burn injury victim may also require physical and occupational therapy to regain or maintain flexibility and range of motion in joints affected by the skin graft. Finally, third-degree burn injuries that cover large portions of the body and leave visible scarring may necessitate mental health therapy to help the victim cope with the emotional effects of the change in their appearance.
Talk to a Phoenix Burn Injury Attorney Now
If you have suffered a burn injury in an accident that was someone else's fault, contact Silkman Law Firm Injury & Accident Lawyer today for a free initial consultation. Our Phoenix burn injury attorney will work tirelessly in pursuit of the financial resources you need and the justice you deserve.