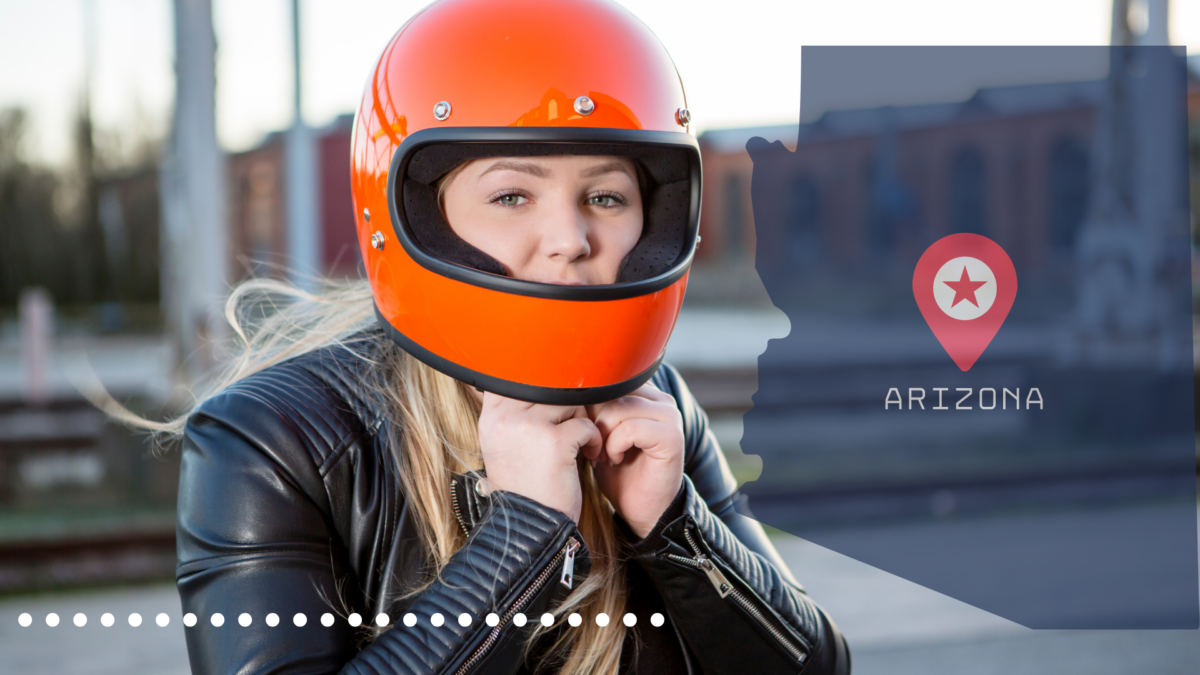 With the mountains around Flagstaff, the red rocks of Sedona, the wide-open Sonoran Desert, and the sprawling Valley of the Sun, Arizona has some incredible places to explore on a motorcycle. But before you get out on the open road, you may be asking yourself the question: Do you have to wear a helmet in Arizona? Arizona has several rules for motorcycle riders, including helmet and licensing laws. It's important that you know Arizona's motorcycle helmet laws if you want to ride safely and legally anywhere in Arizona.
At Silkman Law Firm Injury & Accident Lawyer, our team is committed to helping motorcycle riders before and after an accident. If the unfortunate happens, and you are involved in an accident, we are ready to defend your rights and help you seek maximum compensation for your injuries.
Contact our offices today for a free initial consultation with an experienced Arizona motorcycle accident lawyer.
Who Is Required to Wear a Helmet by Arizona's Law?
Compared to other states, Arizona has lenient helmet requirements for motorcycle riders. Currently, Arizona's motorcycle helmet laws stipulate that only riders under the age of 18 are required to wear a helmet. However, all riders must wear eye protection, such as glasses, goggles, or a face shield, unless their motorcycle has a windshield.
Despite not having a law that requires wearing a motorcycle helmet, the Arizona Department of Public Safety (DPS) strongly recommends that all riders wear a helmet.
Riders should also consider wearing protective clothing, such as the following:
A jacket made of sturdy material
Thick gloves
Boots
Long pants
Why Should You Always Wear a Helmet?
Legally, Arizona riders 18 years or older can ride without a helmet. However, that doesn't mean you should. The Arizona DPS reports that half of the motorcycle riders involved in a fatal collision in one recent year weren't wearing a helmet.
Helmets save thousands of lives each year. The Centers for Disease Control and Prevention (CDC) estimate that helmets reduce the risk of death by at least 37 percent and the risk of head injury by 69 percent.
Further studies indicate that states without helmet laws have a higher rate of motorcycle fatalities than states with helmet laws. Motorcycle helmet laws have helped reduce head injuries, cognitive disabilities, and death.
To protect yourself, wear a U.S. Department of Transportation-certified helmet. These helmets will have the DOT symbol on the outside of the helmet in the back. Make sure the helmet is snug when you put it on, but not tight or uncomfortable. It is time to replace your helmet when it feels too small, the padding loses its shape, or there's a crack.
What Other Laws Does Arizona Have for Motorcycle Riders?
Along with Arizona's motorcycle helmet laws, Arizona requires all riders to wear eye protection. Arizona has other motorcycle-specific regulations. One such law concerns lane usage. Motorcycle riders are entitled to use one full lane. Two riders can travel beside each other in a single lane, though.
Arizona prohibits lane splitting, where a motorcyclist travels between lanes of traffic or rows of vehicles. While this may be a convenient way for a rider to move through traffic jams, it can be extremely dangerous. Motorists may not see the lane-splitting rider, resulting in dooring, merging collisions, and other significant accidents.
Riders must obtain a Class M motorcycle endorsement on their license to legally operate a motorcycle in Arizona. Motorcycles also need to be equipped with the following:
At least one had lamp (but not more than two)
A rear-view mirror
A secure seat for both a rider and a passenger if someone is riding with you
Footrests for both the rider and any passenger
How Much Is the Average Motorcycle Accident Settlement in Arizona?
The truth is that there is no average motorcycle accident settlement in Arizona, simply because there is no such thing as an "average" accident. Every accident is the result of a unique set of circumstances that determine how much a settlement is worth. Major factors that influence the size of a settlement offer include how the accident happened and the extent of your losses.
Depending on the circumstances of the accident that injured you, you could be entitled to compensation for losses, including the following:
Medical expenses for past and future care
Lost wages from time spent recovering from injuries
Lost future earning potential if your injuries prevent you from returning to your old job
Physical pain and emotional trauma
Property damage, such as the pre-accident value of your motorcycle
At Silkman Law Firm Injury & Accident Lawyer, our Phoenix motorcycle accident lawyer has a large network of professional connections who can use their knowledge to evaluate the value of your claim. It takes a careful review of your situation, including the cause of the crash and the severity of your injuries, to determine the fair and accurate worth of your case.
Get a Phoenix Motorcycle Accident Attorney for Your Injuries
People who've been injured in motorcycle accidents face challenges that other drivers don't typically experience when they seek compensation, including unfair stereotypes of motorcyclists as irresponsible or thrill-seeking. If you have been injured in a motorcycle accident, you should talk to a skilled Arizona motorcycle accident attorney right away. You need a lawyer who understands the unique aspects of motorcycle accident cases and has a proven track record of success.
At Silkman Law Firm Injury & Accident Lawyer, we focus on helping AZ riders injured by negligent motorists seek the compensation they deserve for their injuries. Discuss your legal rights with us today by contacting our Phoenix personal injury law office and setting up a free case evaluation. You deserve justice. Let us help you fight for it.